More Fireplace Accessories
Find your next mantel, glass doors, tools, and more!
Mantels & Shelves
Add more to your living room's focal point.
Is there something missing from your fireplace? Or is your current mantel not matching your design style and decor? Let us at Woodstove Fireplace & Patio Shop help you find the perfect mantel for your fireplace! With a vast array of materials and styles to choose from, we are confident that you will find a mantel that best suits your style.
To get a quote for a new mantel, please click the button below to request a quote.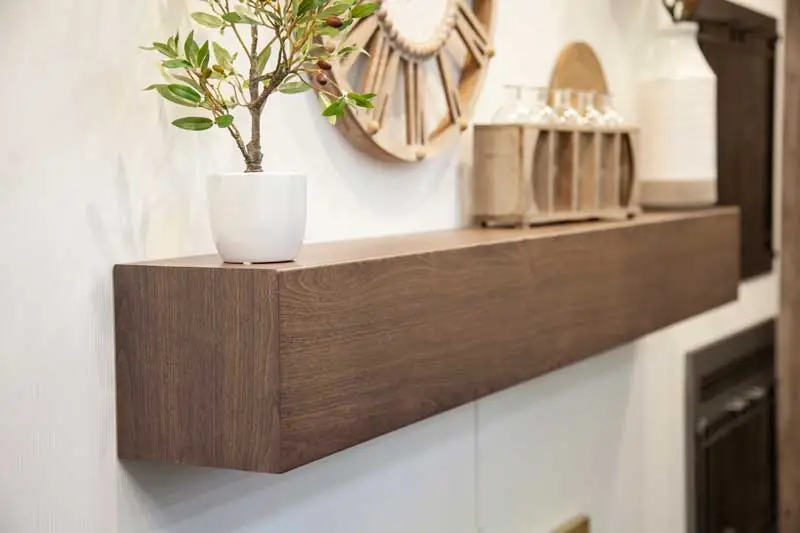 Glass Doors
Add safety, style and comfort to your fireplace.
Fireplace doors are a great way to add more to the focal point of your living room! Not only do they add visual style and decoration to your fireplace, but it also allows for:
An increase in safety when using your fireplace.
Lowers utility costs.
Better heating efficiency.
And keeps smoke out!
To get a quote on the glass doors we carry, please click the button below.
Surrounds & Facings
Give your fireplace a grand makeover.
Are you looking to add that finishing touch on or around your fireplace? Then Woodstove Fireplace & Patio Shop is the team for you! We can help you pick out gorgeous stones, tiles, and facings that would not only help to update the look of  your fireplace – but overall compliment your design style and furnishings.
Are you ready to transform your living room and fireplace? Click the button below to contact our team, and get a quote on your dream fireplace makeover.
Hearth Pads
protect your floors and home.
Do you have a stove, but do not have the proper protection to keep your floor safe? Look no further! At Woodstove Fireplace & Patio Shop, we carry a vast selection of hearth pads that can help you protect your home from unwated sparks and embers singing your floors.
Hearth pads are sections of fireproof material
that can be used underneath:
Wood Stoves
Pellet Stoves
Gas Stoves
Click the button below to get a quote today on one of our hearth pads.
Visit Our Showrooms
Our showroom is situated in home that was converted to retail space. We have 2 distinct showrooms, one for each fuel source we carry; wood, pellet and gas. Within these rooms, we have 79 appliances on display including 45 that are burning. Many of these models are adorned by a sample of the Mantels, Surrounds and Stone Facings we sell. We also have an impressive display of Glass Doors to peruse to go along with many other hearth accessories and maintenance items we carry.
★ ★ ★ ★ ★
"Just had my gas fireplace serviced by Jake from Littleton wood stove and patio shop. I couldn't be more pleased. Jake was on time, very knowledgeable on the problem, and made the repair successfully. Price was as expected with no surprises. I will definitely use again if needed."
- John G.
★ ★ ★ ★ ★
"Our pellet stove has been serviced by Jake these couple of years who is very friendly and knowledgeable. He would always address the issues and answer the questions I have. It is a pleasant to work with you, Jake!"
- YGL.
★ ★ ★ ★ ★
"We worked with the Woodstove Fireplace & Patio Shop to get a wood burning fireplace insert installed, and would definitely recommend them. Paul the sales manager was very knowledgeable and patiently answered our many questions. Barry the owner was accommodating and easy to work with to get the installation done despite several delays and challenges on our side."
- Brendan D.
★ ★ ★ ★ ★
"Our Vermont Casting stove was deemed unrepairable by two other service people. Jake from your service department came by and fix it in a jiffy and the stove is like brand new. So grateful to Jake and your company for this fix. Got us through this subzero weekend with no problems. Great to have you in our neighborhood."
- Vinnie P.
★ ★ ★ ★ ★
"The person, Jake Gagnon, who has come to service our 2 gas fireplaces yearly does an excellent job. He is pleasant, answers any questions and is very efficient. He gets 5 stars."
- Phyllis P.